MRC840 HYTOOL™ #8-4/0 AWG Non-Insulated Copper Connectors
The MRC840 Machanical Rotating Crimp Tool, Cobra Part Number LMRC840, will accommodate copper compression Burndy® Hydent™ connectors from #8 Awg stranded - 4/0 AWG stranded copper conductor. Butting steel jaw and over center cam action assure full crimp force.
Rotatable die wheel is color-coded and stamped with the conductor size to provide an easy match of the die and color-coded Burndy® Hydent™ connector. Burndy® YA and YS series connectors are UL listed when installed with this tool. 5-year limited warranty.
Features and Benefits
Comfort grip handles.

Aids in prevention of hand slippage. Reduces fatigue continuous use.

Heat treated steel jaws.

Reduces jaw buckling and misalignment under heavy loading.

Approximately 9,000 crimp cycle life.

Lasts longer than imitations and will still be working when others have worn out.

Multiple grip sections on rotatble die wheels.

No lost dies, 9 position color-coded rotatable die wheels.

High strength fasteners.

Increase tool life by reducing tool wear.

Plated jaws.

Provide enhanced corrosion protection.

Engraved crimp groove (Die index number.)

Die index embossment allows permanent inspectability of installed connectors to ensure consistently reliable

and dependable connections.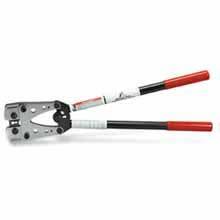 Length: 26"
Height: 8"
Weight: 8-1/4 lbs.
Cobra Part Number: LMRC840